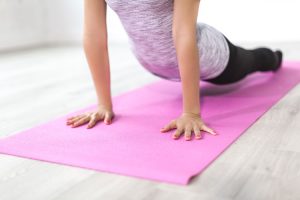 Interested in our PhysioYoga Beginner Series?
Join Dr. Talley for one of our  yoga class series hosted at the clinic. For questions about upcoming series or about how PhysioYoga can help you, call us at (919)-571-9912  or ask us here.
PhysioYoga is the blend of physical therapy with medical therapeutic yoga (MTY) for a holistic approach to your care. MTY practitioners incorporate current evidence into Hatha yoga for optimal wellness and rehabilitation. Dr. Talley integrates her 20+ year experience as a physical therapist and yoga student with her training in MTY to guide you through safe, comfortable movement that you can continue on your own or in a class setting. All components of wellness, including asana (poses) and pranayama (breath) are incorporated into clinic sessions and self care.
WHO'S IT FOR?
PhysioYoga is for anyone interested in yoga! Whether you want to learn the foundations of yoga poses, are recovering from an injury or want to get more out of your existing practice, Dr. Talley works with you on your personal goals and tailors each session for you. Therapeutic benefits of PhysioYoga include pain reduction and improvements in strength, mobility and body awareness both on the mat and in your daily routine. PhysioYoga is also helpful for those with persistent pain who are seeking a way to return to movement.
HOW IT WORKS
All PhysioYoga sessions are 60 minutes and are one on one. Double sessions can be accommodated for those who are interested in a longer appointment. Your first session will include a movement assessment to allow Dr. Talley to tailor your practice to your interest and needs.
PhysioYoga is a component of patient assessment and treatment as well as patient self care. If you are a current patient at our practice, ask about how we can incorporate PhysioYoga into your treatment.